9th May 2022
Bohemian Clothing Wholesale South Africa
It's fair to say that bohemian clothing is all about being true to yourself. And your roots. The effortless looks of bohemian clothes bring out the richness in everyone. Just like the style itself, every garment that is used to complement this look carries a message. This message varies for everybody. Some people like to dress in a boho style because it's so comfortable. Some like it because they can experiment with different garments. And some dress with bohemian clothing because it helps them reconnect with themselves, daily.
Unlike fast-fashion garments, bohemian style clothing is made from high-quality materials. Most of the time, skin-friendly materials such as cotton are preferred. And that's only one advantage among many when it comes to bohemian clothing.
A New Way to Appreciate Culture
South African culture is rich. In many ways as well. From their diversity in languages to clothing, the whole culture offers a generous amount of tradition. And these traditions show themselves in clothing as well. That's why bohemian clothing especially clicks well with styles that take their roots from cultural designs.
Once you start to dress in a bohemian style, you are going to quickly realize how much more comfortable it is! Compared to other styles, the boho style has skin-friendly materials the most. From boho tops that keep you company in summer to women's harem pants that free the legs, you can enjoy your life to the fullest. The importance of wearing cosy clothes shows up in different ways. After a while, you realize that your body doesn't have to shrink itself to fit in a pair of tight pants, which is unhealthy for your blood circulation.
South African culture has been a trustworthy guide in bohemian style. From their breezy fabrics, you feel the weather immediately. On top of that, the unique designs and patterns inspire and nourish your style like no other.
Bohemian Wholesalers That Ships to South Africa
If you like to offer bohemian style clothing in your store yet don't know how to find a trustworthy wholesaler, we got you! BohoClandestino has been producing and providing boho style clothes for a long time. Since 2003, we rediscovered the bohemian style over and over again, while finding inspirations from other cultures that are like gemstones!
For bohemian clothing wholesale in South Africa, you can trust BohoClandestino with peace of mind. We offer a wide range of clothing and garments as well. From wholesale boho dresses to boho jumpsuits, you can enjoy the privilege of presenting unique pieces in your stores. We are also aware that shipping can be costly. And nervous as well since getting a big delivery may take a while. However, as BohoClandestino we make the shipping process as smooth as possible with our years of experience.
Shipping to South Africa
You've decided to get into the world of bohemian style clothes and want to let your customers around the country have easy access as well. Then you've come to the right place. Once you settle your order and are ready to check out, we offer you two shipping options. So you can choose the one that'll be the best for your business easily. The first one is express shipping through express couriers such as UPS, TNT, DHL and FedX. The moment you place your order, we start working! We prepare your orders with love and dedication, filled with excitement for you to see our designs. Your orders are shipped the next day. The shipping cost is calculated on our website and it's added to the total amount. So you don't have to worry about surprise costs or secret terms whatsoever. The second shipping option is self-arranged shipment . This shipment is preferred for larger orders and your orders can be delivered through land, sea or air freight.
Shipping to South Africa fees

Order Amount

Shipping Cost

Up to 300 USD

80 USD

301 - 600 USD

100 USD

601 - 1000 USD

120 USD

Over 1000 USD

Free
-
With an open-door policy, you can reach out to us anytime you want and track your shipping with a link we'll send to you. This way, you can follow the whole process and have no questions in your mind. And start to build up your own wholesale bohemian clothing business with ease.
So if you are looking for a bohemian clothing wholesaler that ships to South Africa , you can try and see BohoClandestino's smooth and effortless shipment process for yourself.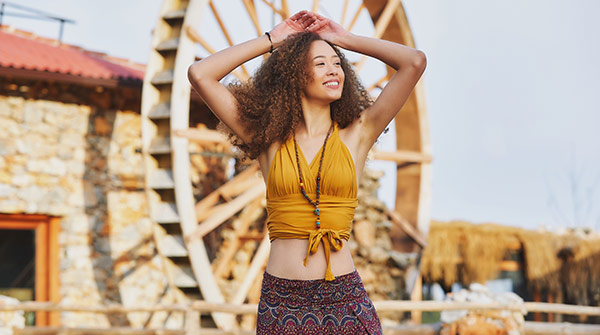 Bring Out South African Women's Unique Style in a Brand New Way
South African fashion is known for its glowing colour options, brilliant patterns and attention-grabbing designs. Now, imagine you bring all these with a bohemian clothing style together! Although the two may seem similar in terms of wide-cut pants, and breezy dresses made from high-quality materials, they definitely can contribute to one another.
With bohemian clothing wholesale in South Africa, you can introduce a new and exhilarating style to people in the country. This is for sure going to help you stand out among other brands and stores.
Rediscover Your Style with BohoClandestino in South Africa
The thing with wholesale boho dresses is that you can never have enough of them. Women love to have options. And the more options you're able to provide, the more popular your store is going to get. BohoClandestino has a wide range of collections in both women's and men's boho clothing. From comfortable jumpsuits to stylish coats, you can furnish your store with amazing pieces.
Affordable, Extraordinary and Mesmerizing: Bohemian Style in South Africa
Bohemian style may seem like a costly fashion style. The reason for it is the fact that most pieces in the boho style are unique and it takes a lot of time and effort to create them. But, as BohoClandestino, we believe that it should be possible for everyone to try the boho style. Instead of fast-fashion garments that are both made of cheap materials and torn easily, investing in high-quality clothes pays off in the long run.
Besides, the myth of unique and first-rate clothes being expensive is slowly disappearing, because when all things considered, the truth is out there! When you buy low-quality and fast-fashion clothes, they wear off faster and you have to buy more, thus paying more. On top of that, it's not good for our one and the only planet as well. Luckily, more people become aware of this situation and
To be one of the bohemian clothing wholesalers in South Africa spots, you first need a wide range of clothes from harem pants to peasant tops, and cottagecore dresses to men's harem pants. After that, you're ready to welcome your customers into your store.
Get Inspirations From One of a Kind Clothes
Just like South African clothes, bohemian style clothes are unique in design, pattern and colour as well. Moreover, they carry meaningful stories on them. Just like a Kanga. With colours coming together, they create a radiant shape. Bohemian clothes are similar in that way that help you live a fuller life, and be sustainable in what you wear. s
In the end, each choice helps us manifest our thought of the world as well. And with BohoClandestino bohemian clothing wholesale south Africa shipments, you can achieve that easy as winking!